Estonia is still voting on paper. Most votes cast on election day on paper (blue). Share of i-votes(red) has risen but participation has stayed the same. Early voting has risen but i-votes are given 2 times less than on paper(per hour).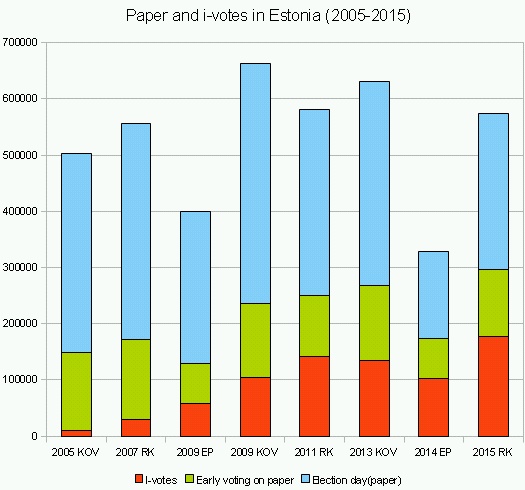 I-voting is only possible during early voting(7 days, 153 hours). Last i-vote is counted and if there is cast paper vote(during early voting period), it will be canceled. On voting day e-voting is not possible.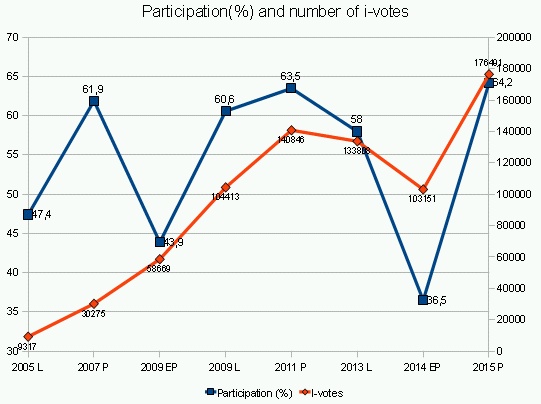 Local election – during 2 last election i-votes have increased up to 133808 but participation fell 4,3%(change 2,6 points) from 60,6 to 58.
Participation (%)    I-votes
2005 L    47,4%    9317
2009 L    60,6%    104413
2013 L    58%    133808
Parliamentary elections. There is no link between i-voting and participation.
Participation (%)    I-votes
2007 P    61,9%    30275
2011 P    63,5%    140846
2015 P    64,2%    176491
European Parliament elections. Number of i-votes almost doubled but participation fell 16,8%(7,4 points) from 43,9% to 36,5%.
Participation (%)    I-votes
2009 EP    43,9    58669
2014 EP    36,5    103151